Cellular Laboratories® De-Aging Toner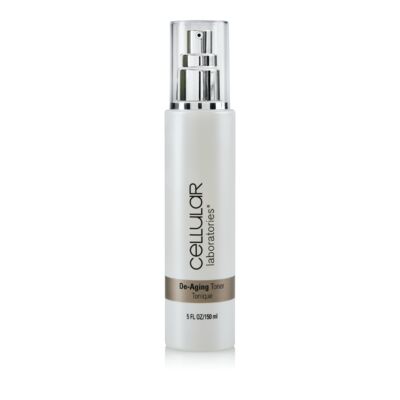 Cellular Laboratories De-Aging Toner gently cleanses excess dirt and residue while balancing and preparing skin for optimal retention of treatments and moisturizer. This multi-functional formula helps protect and ...
$51.78
$54.50
$1.09 (2%)
Single Bottle (5 fl. oz./150 ml)
---
sku: 11200
FEATURED RECOMMENDATIONS
Details
---
The anti-aging formula, Cellular Laboratories De-Aging Toner, helps to provide moisture in the skincare regimen. Toner is a key step in an effective skincare regimen; it follows the application of the cleanser to double-check that all traces of dirt and impurities have been removed, allowing skin to breathe and generate the proper collagen, elastin and moisture needed for healthy, radiant, youthful-looking skin.
Benefits
---
Gets rid of residue and excess dirt on the skin, while moisturizing and maintaining the skin's barrier
Soothes, softens and hydrates even the most sensitive skin
Antioxidants protect skin
Prepares skin for more effective moisturization and lubrication
For all skin types
Promotes circulation of the skin, supporting absorption of vitamin C into the skin
Paraben-free formula
Ingredients
---
Renovage (Geranylgeranone)
Anti-aging and protective effect against stress by promoting normal telomere stabilization and DNA maintenance (cell division). Supports tissue quality by promoting optimal cell interactions (cell communication) and a normal balance of cell functions (metabolism).
Sodium PCA
Powerful, natural moisturizing agent that is found in human skin and is part of the natural moisturizing factor of healthy skin. Has been shown to hydrate the skin more effectively than traditionally used compounds in skincare products.
Emblica Fruit Extract
Gooseberry extract that consists of low molecular weight tannins. Multi-functional ingredient that reduces signs of aging and promotes a multi-level cascade of antioxidant compounds resulting in a long-lasting and stable antioxidant activity. Consists of a composition of low molecular weight tannins.
Honeysuckle Flower, Jujuba Fruit and Licorice Root Extracts
Calm and soothe, while providing nutrients necessary for the protection and retention of healthy skin. Help to support skin elasticity and firmness.
Pentaphyllum and Panax Ginseng Root Extracts
Supports normal blood circulation and availability of oxygen in the cells. Enhances delivery of nutrients and removes dirt and impurities.
Yeast Extract
Obtained from yeast that are comprised of a complex mixture of proteins, sugars and amino acids, acts as an excellent moisturizer and supports normal cell turnover in this skin.
Sodium Hyaluronate
Found natural in human skin and works to moisturize the skin; can hold more than 1000 times its own weight in water.
FAQ
---
How do I use Cellular Laboratories De-Aging Toner?
Apply to cleansed skin with a cotton pad. Sweep over face and neck. Avoid direct contact with the eye.
What is toner?
Toner is a gentle skin softener that balances your skin.
Do I really need to use a toner?
Toner is one of the most under-rated products on the market. Our toner is designed to complete the cleansing process, but it also prepares the skin for moisturizer application or other skincare treatment.
How does a toner work differently than a cleanser?
Facial toner is a liquid that promotes normal pH level, and helps the skin stay clean and healthy. It also serves as a second cleanser to ensure optimal residue and debris removal. As we age, our pores enlarge due to environmental exposure. When makeup is applied to skin that has not been properly cleaned, pores are further enlarged.

Why do you recommend application of toner with a cotton swab?
Cotton swabs are made up of more tightly woven fibers that are less likely to come off on the skin than tissue. It makes for a better, smoother application.
Why should I use a toner?
Everyone may benefit from the regular use of toner. Those people who wear a lot of makeup, have visibly large pores, people with oily skin, acne-prone skin or anyone who wants clean, calm and smooth skin. Toner promotes normal hydration.
How do I get the most out of the use of toner?
For optimal results, apply to freshly cleansed skin daily morning and evening with a cotton swab. Avoid direct contact with eyes. Do not wash off. Leave on to dry. Follow with a moisturizer.
Besides the key ingredients, what else goes into the toner?
Water, Butylene Glycol, Propylene Glycol, Glycerin, Sodium Hyaluronate, Sodium PCA, Sorbitol,Xylitylglucoside, Anhydroxylitol, Xylitol, PEG-6, Bis-PEG-18 Methyl Ether Dimethyl Silane, Yeast Extract, Gynostemma Pentaphyllum Extract, Panax Ginseng Root Extract, Teprenone, Phyllanthus Emblica Fruit Extract, Lonicera Caprifolium (Honeysuckle) Flower Extract, Zizyphus Jujuba Fruit Extract, Glycyrrhiza Glabra (Licorice) Root Extract, Caprylic/Capric Triglyceride, Disodium EDTA,Hydroxypropyl Bis-Hydroxyethyldimonium Chloride, Jojoba Wax PEG-120 Esters, PEG-40 Hydrogenated Castor Oil, Trideceth-9, Phenoxyethanol, Caprylyl Glycol, Chlorphenesin, Fragrance
What type of packaging does the toner come in?
The toner comes in a 5 oz./150 ml bottle with a pump.
Is this product tested on animals?
This product has not been tested on animals.
Reviews
---
Displaying reviews 1 - 5 of 20
---
truly like the smooth and gentle feel of this toner. it is not harsh at all and feels great applying. No dryness and a great prep for my night and day cream applications. Love this product. Recommended it to my 84 year old male customer! He liked my product.
Response from Customer Service:
03/30/2020
Dear Valued Customer,

Thank you for taking the time to leave your thoughts on the Cellular Laboratories De-Aging Toner! We are happy to hear you are pleased with the product.

Thank you again!
The Product Information Team
---
This toner is very refreshing and rejuvenates my skin without causing any tightness or drying. It really adds moisture back into my skin and helps my skin to look young and fresh.
---
I use the toner to clean the my face and it tightens and smoothes my skin while cleaning.
---
Leaves your skin feeling silky with a gorgeous glow
---
This toner really compliments all skin type especially dried skin. I occasionally use cotton pads when using this to remove excess dirt, but majority of the time i just pat this toner on my skin. Great regimen to add to you skincare!