Lumière de Vie® Full Regimen Kit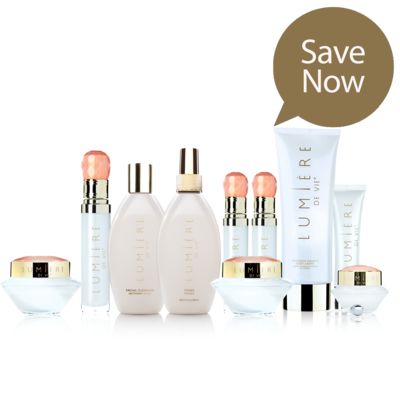 Lumière de Vie Full Regimen Kit features ten products to complete a full skincare regimen. Lumière de Vie utilizes powerful formulas to help cleanse, tone, soothe and protect ...
FEATURED RECOMMENDATIONS
Reviews
---
Displaying reviews 1 - 5 of 10
---
---
I hesitated to try this because I was so in love with the Cellular Labs line, but I am so glad I did.try it. This is a fantastic kit. Products feel great on the skin, and last a very long time. My skin at age 54 looks better than it did at 34. Significantly better. I love this set.
---
Lumiere de vie is phenomenal skincare
Phenomenal skincare. High quality ingredients at an affordable price. If used twice daily, products last at least 6 months to 1 year. The cleanser, toner, fading fluid, & serum last 6-8 months, while the creams last longer.
---
Phenomenal skincare line. High end, but affordable
Phenomenal skincare line. High end & superb quality, but affordable. Minimal product needed for application, a little goes a long way
---
This skincare line is amazing!
I purchased the kit and use all steps. I love everything, layering the serums works amazing. The refreshing smell of the mask is beautiful and I love the exfoliating scrub when you remove it. The metal applicator ball for the eye cream really feels great. I highly recommend this product line, very high end at a very reasonable price.