Lumière de Vie® Pink Jade Roller
$17.50
AutoShip price:
$16.63
$0.35 Cashback
Includes one roller
|
sku: 12225
This product qualifies for free or flat-rate cost shipping. Learn More
Details
---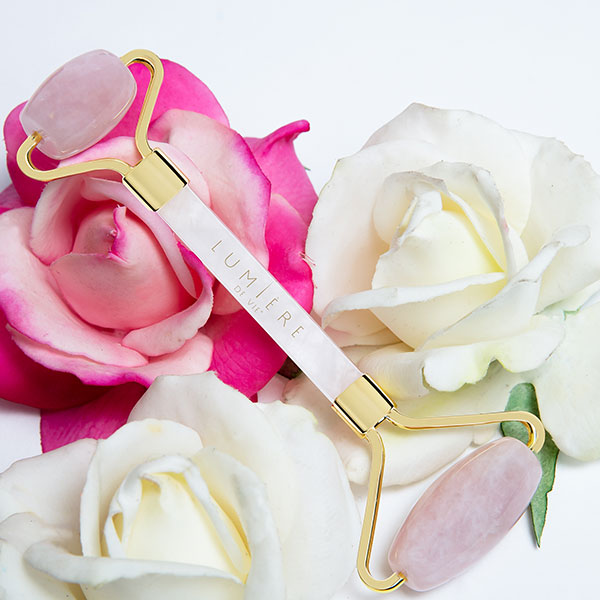 This facial massager utilizes jade, known as the stone of eternal youth, and the calming art of massage to relax the face. Utilize this tool to help aid in the absorption of treatments into the skin, reduce the appearance of puffiness, and signs of aging. This dual sided tool can be used throughout all areas of the face and neck to maximize your daily skincare regimen. Calm your skin with the Lumiere de Vie Pink Jade Roller.
*The Lumière de Vie Pink Jade Roller is made by the natural stone named Rose Quartz, which belongs to the jade stone. The name jade stone is the general name for natural gemstone, which includes the stone with different colors and different material. Since the roller is made of a natural stone material it may contain small imperfections such as cracks or surface unevenness.

Benefits
---
Best used with daily skincare regimen
Glides across face smoothly
Comfortable handle allows for easy application
Two different sized stones for various facial areas
Travel-friendly size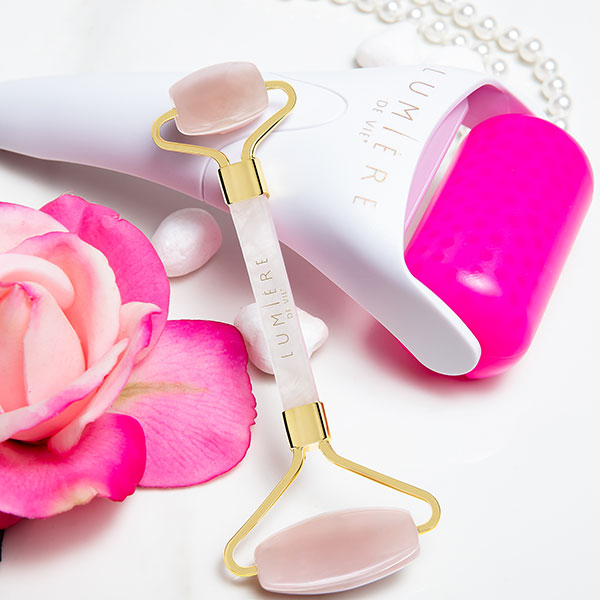 FAQ
---
How do I use Lumière de Vie Pink Jade Roller?
After application of desired treatment begin rolling from the center of the face outward, up the neck and décolletage. For best results use the larger stone for broader surfaces, such as cheeks, and the small stone for more delicate areas, such as eyes.

How many rollers will I get?
You will receive one Lumière de Vie Pink Jade Roller. Each roller consists of two stones, one large stone and one small stone.

Can the Lumière de Vie Pink Jade Roller be reused?
Yes, the Pink Jade Roller can easily be cleaned and stored for reuse after each treatment.

How do you clean the Lumière de Vie Pink Jade Roller?
Apply rubbing alcohol to a cotton pad and swipe over each jade stone. Make sure the roller has had enough time to completely dry before next treatment application. It is recommended to clean this product after each use.

Will this product work with all skin types?
Yes! Lumière de Vie Pink Jade Roller was created to work well with all skin types.

Is Lumière de Vie Pink Jade Roller tested on animals?
Lumière de Vie does not conduct or commission animal testing of any finished product.
Reviews
---
Displaying reviews 1 - 5 of 10
My wife started using this on my face along with the lumiere de vie hommes line and the neck firming treatment. If feels cool and relaxing. For a man's skin it has really seemed to help with the penetration of products and I was really impressed with the quality of how it's made. It's no joke (close your eyes if pink bothers you).
Being 54 years old with using these products people are noticing the difference!
Thank you Heather for getting this and insisting Men need to take better care of their skin.
It is a wonderful product. I've been using it daily. Makes my face and neck feel wonderful!
OMG I bought this the first day came out, I absolutely love it! I feel it totally help all the serums absorbing fasting to my skin, my skin is tighter. Definitely recommend to all my friends!
I like this product, because it can me to remove wrinkles .
Such an awesome product, help moisturizer to really absorb into my face.