Motives® Collagen Core Lipstick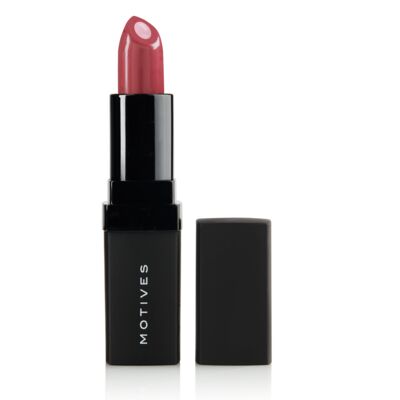 A lip treatment that instantly nourishes, smooths and softens the lip from its collagen core, and doubles as a lip color with a rich, creamy texture.
FEATURED RECOMMENDATIONS
Reviews
---
Displaying reviews 1 - 5 of 16
---
This is my go-to lipstick!
Hands down my favorite lipstick formula ever. This product has converted me as I have actually always detested lipstick. I was never happy with the feel, the taste or what my lips looked like after it wore off, and I have tried hundreds. I have been able to tolerate Motives products, because of the higher quality ingredients, but I really only wore lipstick because I felt I should. But now, I am in *love* with this product. It's so creamy and rich. It makes my lips softer & feels great. The Optimistic color is perfect for me and the satin finish looks professional and neat. I have ordered dozens of these, as I keep one in every bag, every briefcase, every travel kit. Please don't ever discontinue this lipstick!
---
My lips stay moist, the color is perfect, it goes on smoothly, accurately, has no taste, and doesn't 'run' off my lips.
I've used lots and lots of high end lipsticks over the years and hands down this out performs them all!
Thank you, Motives!
---
I love how the Collagen core in a lipstick treats my lips while wearing a lip color!
---
Moisturising yet lasting!
I love it's texture when gilding over my lips. A pleasant surprise is it's lasting! It's colour stays even after a meal . Thumbs up!
---
I have two of these lipsticks and I love them. I have Motivated and Optimistic.!They go one very smoothly and feel nice on. Great neutral colors I feel. Your lips will feel very hydrated as you wear this.