Motives® Essential Brow Kit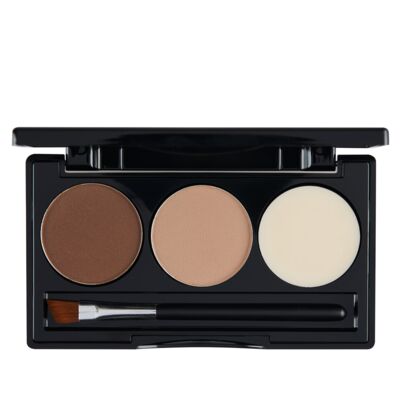 A complete kit for expertly shaping, grooming and defining your brows. The all-inclusive kit contains wax to sculpt the brows and two powder shades to create a natural ...
FEATURED RECOMMENDATIONS
Reviews
---
Displaying reviews 1 - 5 of 158
---
Great wax! Make the powder darker for asians!
The description is not apparent but the third pan on the right is the wax item. The wax item is the magical product that helps keep eyebrow powder color on your eyebrows even through a day of massive sweating! A little goes a long way so try gently dab just a little from the pan onto your brush before adding more & it will last a long time! I have warm body (as opposed to cold; I'm warm all the time) but this wax still manages to stay on.
As for the color pans on left: I'm asian with deep dark black-brown hair & eye brows and the other two pan colors are too light so I don't use them at all. That said, Loren, would you please make another set with the two colors deep dark brown and dark walnut brown? Thank you if can! :D
---
I have thin eye brow and this eye brow kit really helps me in drawing a nice eye brow!
---
Nice brow kit for beginner
Simply love this brow kit . Its dual tone create a natural looking brow , plus the gel is a bonus ! It helps to stay for the whole day . It is definitely my keeper .
---
07/29/2019
by Susan and KenN
---
can't without eye brow kit
love this kit , easy to carry and apply on my brow