Motives® Hydrating Lip Balm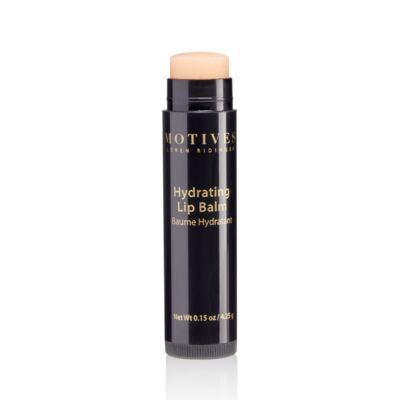 A lip treatment that helps reduce the look of wrinkles on and around lips. This lip balm provides immediate and sustained antioxidant protection against the environment, and replenishes ...
Reviews
---
Displaying reviews 1 - 5 of 78
---
Motives Hydrating Lip Balm helps me with my dry, chapped lips. It doesn't feel waxy like other brands of chapstick. I keep several on hand so that I can have one handy when I need it. Living in the cold midwest, this product is essential.
Response from Customer Service:
11/10/2019
Dear Valued Customer,

Thank you for taking the time to leave your thoughts on the Motives® Hydrating Lip Balm We are happy to hear you are pleased with the product.
Thank you!
The Product Information Team

---
This ACTUALLY WORKS... seriously!
Everything I've tried... dries my lips out... but not this. This actually hydrates like it's name says.. Makes it so I don't have to apply it 20 times a day... once or twice is perfect...because it really works. I keep it in my bag.
---
The Best Hydrating Lip Balm Hands Down!
My son is very picky when it comes to the perfect products for his severely chapped lips. This lip balm is very soothing & hydrating. My son uses this lip balm twice daily first thins in the morning and every night at bedtime. He enjoys the citrus scent. I highly recommend it for everyone as needed year round.
---
Great for dry lips, esp. in air-con places
This is one thing i got to bring with me everywhere i go. It moisturizes my lips instantly esp when i am in the air-conditioned places / airplanes and i do not have to reapply a lot of times which other lip balms do. has a nice tangerine fragrance when applied.
---
This Lip Balm is Da BOMB!!!
Yes, Men Wear MOTIVES too... the Lip Balm is Da BOMB!!!