This product qualifies for free or flat-rate cost shipping. Learn More
Details
---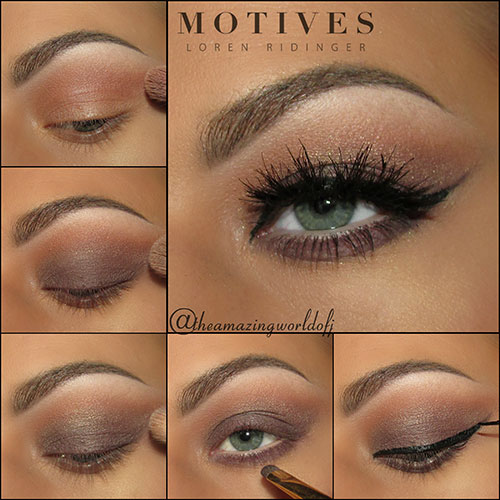 A long-lasting liquid liner that comes with a fine tip to allow for precise application. Perfect for creating a defined eye or a bold, dramatic look.
Create this look:

1. Apply Motives Eye Base to the entire lid
2. Apply Motives Pressed Eye Shadow in Caramel as the transition shade
3. Apply Motives Pressed Eye Shadow in Caviar to the lid and lower lash line
4. Apply Motives Pressed Eye Shadow in Illusion to the lid
5. Apply Motives Liquid Eyeliner in Noir to the top lash line
6. Finish your look with Motives All Day Liquid Stick in Shock Wave

Benefits
---
Creates dramatic, sexy eyes within minutes
Long-lasting and water-resistant
Unique applicator allows for professional, precise application
Glides on smoothly without pulling the sensitive skin around the eyes
Ingredients
---
Water, Propylene Glycol, Xanthan Gum, Acrylates/Octylacrylamide Copolymer, Phenoxyethanol, Caprylyl Glycol, Potassium Hydroxide, Disodium EDTA. May Contain: Iron Oxides (CI 77491, 77492, 77499).
FAQ
---
How do I use Motives Liquid Eyeliner?
Motives Liquid Eyeliner comes with a built-in applicator that is small and firm to give you precise application. Simply untwist the top and the tip will have product on it; start at the inner corner of your eye and line the eye with short strokes. Fill in any gaps along the lash line to complete the look.
What other Motives products work well with Motives Liquid Eyeliner?
Motives Liquid Eyeliner comes in Noir (black), a classic, neutral color, which works great with any Motives eye shadow products. Use Motives Pressed Eye Shadow in Bedroom Eyes to shade the eyelid and Crème Fresh to highlight the brow bone. Line the lash line with Motives Liquid Eyeliner for a classic look.
Does Motives Liquid Eyeliner have staying power?
Although we cannot guarantee the length of time it will last, Motives Liquid Eyeliner is a water-resistant formula to provide longer staying power than traditional eyeliners.
Will Motives Liquid Eyeliner irritate the skin around my eyes?
No, the applicator is designed to prevent pulling the sensitive skin around the eyes, reducing irritation to the eye.
Is this product animal-tested?
Motives does not conduct or commission animal testing of any finished product.
Reviews
---
Displaying reviews 1 - 5 of 44
Dark enough to cover and match with eyelash
I'm a beginner for using Liquid Eyeliner and i love it so much. It's very easy to use, easily to control and the Eyeliner can last for whole day.
This is my favorite eyeliner! I have very oily eye lids so most eyeliner even if they say it's waterproof it usually still smudges but not this one. The chances of it smudging is minimal, it does take slightly longer to dry but I don't mind. You can draw perfect thin lines and create perfect eye looks! It's the best!
Doesn't smudge onto bottom lid!
I have oily eye lids, so every time I use any type of eyeliner, within a few hours my bottom eye lid would be smudged with black. This is the first eyeliner that didn't smudge onto the bottom lid! It takes a while to dry, which I kind of love because if I mess up, I can clean it up right away. This stays fresh even after 12 hours! If you put on more than two layers at the same time, it will start to look cracked. My hands are fidgety so it took me a while to apply my eyeliner in under two layers.
Easy to apply when on the go!
This eyeliner is extremely easy to apply. As the brush is thin you have more control, and are therefore able to create the desired look. Great price point for a product that dries quickly, doesn't smudge and is feather weight on the skin!