Motives® Makeup Mirror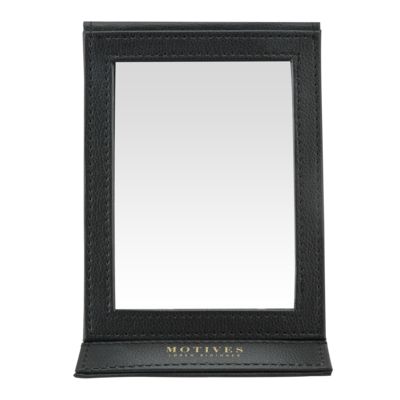 This sleek, black mirror is lovely and will complement any beauty bag while combining function and fashion in a sophisticated way.
FEATURED RECOMMENDATIONS
Reviews
---
Displaying reviews 1 - 5 of 5
---
As we get older our vision changes, unfortunately, for the worse. Have no fear you can use this High definition Mirror to see yourself clearly. You need to add lashes on your eyes, well get this mirror.
---
This mirror is compact and durable. This mirror is great for applying make up and letting others see their make up application!
---
This mirror is amazing, with a great design which I use at home. I also use it at work and keep it in my desk drawer.
---
This is an amazing size and quality mirror. You can travel with it or keep it on your counter. It is so light weight but so mighty. Everyone needs to have one and give one to someone you care about. I have bought 5 as Christmas gifts.
---
It was love at first sight. I love the design so much because it looks classic and is very portable. I am very bad at keeping anything fragile and I broke my mirrors all the time. This one solved my problem.