Motives® Mineral Baked Eye Shadow Trio
$27.95
AutoShip price:
$26.55
$0.56 Cashback
Color:

Intelligent
|
sku: 101MBT
Details
---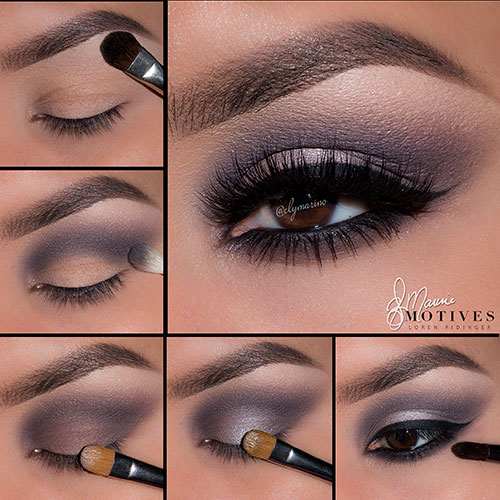 A collection of baked mineral eye shadow trios that effortlessly blend for the perfect look, day to night. The long-lasting, baked formula applies smoothly, either wet or dry, to create natural and bold looks with a shimmery finish.
Create this Look:
Begin by applying "Birch" (Motives Mavens Element Palette) onto the brow bone
Lightly apply "Aubergine" (Motives Mavens Element Palette) above the crease! Taking the darkest shade in the Motives Baked Mineral Baked Eye Shadow Trio in Confident, apply in the crease to add depth
With the medium shade pat over the entire lid
Taking the lightest color on a damp brush pat to the center of the lid
Line the water line with Motives Gel Liner in Little Black Dress and smudge out using the darkest shade in the trio!
Benefits
---
Baked to produce a smooth and silky texture unlike other eye shadows
Highly pigmented and long-lasting due to the baking process, which allows the pigments to set in
Can be applied wet for a more dramatic look, or dry for a more natural day-time look
Luxurious, shimmery finish
Non-drying formula
Gentle and safe for sensitive skin
Ingredients
---
Mica, Sericite Mica, Simmondsia Chinensis (Jojoba) Seed Oil, Carthamus, Tinctorius (Safflower) Seed Oil, Lavandula Angustifolia (Lavander) Flower Extract, Thymus Vulgaris (Thyme) Extract, Camellia Sinensis (Green Tea) Extract, Tocopheryl Acetate, Rosemarinus Officinalis (Rosemary) Leaf Extract, Magnolia Officinalis (Magnolia Bark) Extract. May Contain: Iron Oxides (CI 77489, CI 77499, CI 77491, CI 77492).

FAQ
---
What is baked eye shadow?
Baked eye shadow is a type of eye shadow that is baked instead of just pressed, eliminating the need for binders to hold the shadow together. The eye shadow is allowed to rise while baking, giving it its unique domed shape.
Why choose baked eye shadow?
Baking the eye shadow in this way helps the pigments to set in, allowing you to achieve a much more intense application. Baked eye shadows go on much more smoothly because of this process. The best part of Motives Baked Eye Shadow Trio is that it can be applied wet or dry for two completely different but glamorous looks.
Tips on How to use Motives Baked Eye Shadow Trios:
For a glowing daytime look:
All of our trios include a light, medium, and darker color. Start with the lightest color using the Motives Eye Blender Brush to apply color all over your eyelid and up to your brow bone.
Next, apply the medium shade into your crease to add definition. To line your eyes, use the Motives Angled Liner Brush slightly moistened with water to use the darkest shade to line your eyes with a liquid liner-like effect.
Using the Motives Detailing Brush, you can blend your liner for the desired effect.
For a sultry night time look:
Start with the medium shade and apply it all over your eyelid with the Motives Eye Blender Brush.
Next, sweep the darkest shade into your crease to make your eyes pop.
Using the Motives Angled Liner Brush dampened with water, line your eyes with the darkest shade and blend with the Motives Detailing Brush if desired.
As a finishing touch, brush the lightest shade over your brow bone for a beautifully luminous highlighting effect.
What are some other ways I can use Motives Baked Eye Shadow Trios?
For a more vibrant look for either day or night, dampen your brush with water and press it into the shadow. Apply it to your eyes with a patting motion rather than a sweeping motion. This method will ensure that the color really stands out. Use your Motives Detailing Brush to blend.
Reviews
---
Displaying reviews 1 - 5 of 20
07/07/2012
by Ken and TaraB
Applies smoothly & blends really well! Great pigmentation & long lasting. Small & compact great to travel with.
07/06/2012
by meiyun jinrongl
I very like the puple color, this is great color,and highly pigmented.
I've gotten so many compliments on this eyeshadow, I'm so glad I got it! It goes on smoothly & has a great shimmer. I have Affluent (neutral colors). I've tried them separately as well as all 3 at once & they all look beautiful. I use it everyday & have barely made a dent. Lasts a long time & looking forward to trying the other colors!
I love the colors in this trio. The colors compliments my skin tone & provides a natural glow whenever I use it. Definitely one of my favorites!
love these shadows very deep in color