Motives® Mineral Lip Shine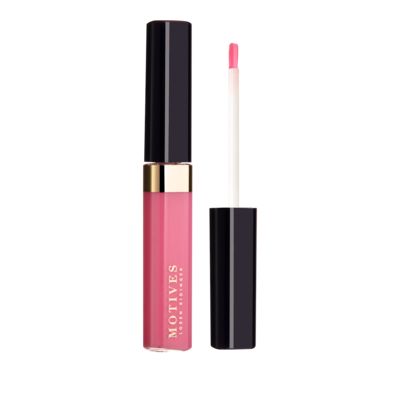 A sheer, high-shine gloss that can be worn alone or layered over lip color to add a touch of luster to lips. The vitamin-rich minerals help to condition ...
$18.95
$0.38 (2%)
Color: Rosé
---
sku: 52MLG
FEATURED RECOMMENDATIONS
Reviews
---
Displaying reviews 1 - 5 of 5
---
i like the different colors. however, my fav is the wildflower. Sweet touch but elegant tint. Introduced it to a few ppl who love it now.
---
Beautiful Color and Very Nice Smell
I am extremely picky when it comes to any lip product as too many smell bad. I LOVE this product - I own 2 of them Scandal and Glam. They add color and shine. Every time I wear them I get complimented, and if my friends are with me they try to steal them. *laughing*
---
This product is fantastic. I never wear lipstick because it would leave my lips irritated and red. Since I have been using this lip shine I have had no problems.
---
I'm happy with the shine of this product. But you should make darker colors for us dark skinned toned ladies
Response from Customer Service:
Thank you for your feedback!
Please check out our Motives Metallic Paints. We think this will work great for you.
---
Not crazy about it for the price
Response from Customer Service:
Hello,

We received your feedback regarding the Motives® Mineral Lip Shine and wanted to reach out to you directly. We are sorry to hear that you are disappointed with the cost of this product. In our research our pricing is competitive in comparison to other comparable lip gloss brands and also has the added benefit of cashback that Shop.com offers. However, we do understand that products works differently for everyone and would love to recommend a product that is more to your liking. If you are looking for more pigment or a longer lasting formulation definitely check out our Motives® Metallic Paints. Please let us know if there is anything else we can assist you with.

Thank you again for taking the time to send us your honest feedback!