VitaShield® OPC-3® Triple Serum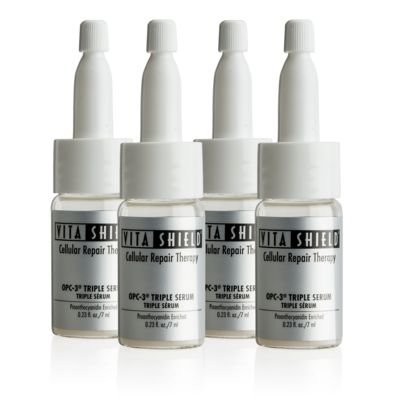 Our skin is under constant attack from environmental factors and, as we age, the protective systems of our body become overworked and begin to break down. Fight back ...
FEATURED RECOMMENDATIONS
Reviews
---
Displaying reviews 1 - 5 of 10
---
Great for Travel, Shields Skin from Pollutants
Perfectly portioned to travel with you, I apply it on the plane and before I know I will be outdoors.
This serum helps my skin to retain moisture and shields it from harmful rays and free radicals.
Your largest organ-- do what you can to nourish and protect it!
---
absolutely LOVE the way this product has changed my skin! Smaller pores, smoother pigmentation and decrease in lines/wrinkles. Using this for life!!
---
I was suffering from so many acne scars and they would stay on my face for months before they started to fade away. In the first week of using this most of my scars disappeared or are barely there. My skin feels so smooth, refreshed and clear.
---
This VitaShield Triple serum has helped to erase facial scarring that i thought to be permanent, (they were 27 years old!) It miraculously smooths ths scars out and lightens them in shade!
---