VitaShield® Vitamin C Intensive Treatment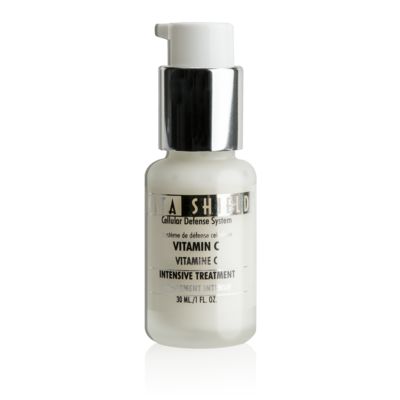 VitaShield Vitamin C Intensive Treatment is an anti-aging specialty treatment that delivers active vitamin C to support healthy skin collagen. Utilizing a unique delivery system, the advanced technology ...
Reviews
---
Displaying reviews 1 - 5 of 5
---
I will absolutely purchase this again. It makes my skin so incredibly silky! I put it on my face, neck, and chest and love it.
---
Wonderful product for flawless skin
I love this product. It makes my skin feel so silky and smooth. It doesn't feel or look greasy but gives my skin a radiant glow. The skin looks younger around my neck and since I like to wear v-neck shirts, I really like how it removes any wrinkling as it smooths the fine lines of skin in those areas.
---
02/26/2015
by Mary EllenC
All it takes is one small pump to cover the face. I use it at night, and in the morning my face is so smooth and soft I just want to keep touching it. I have used the entire VitaShield line and just can't tear myself away from it to try anything else. I would be very unhappy if the product was discontinued. All of the VitaShield products leave my skin with the same amazing feel. What a health boost for your skin! My makeup glides on so well after using the intense moisturizer that it makes a big difference. Couldn't be more pleased.
---
The Vitashield product line is amazing. I love that it fights free radical cell damage along with helping with collagen. My skin never felt so good and nourished
---
12/29/2008
by Veng ChengY
My skin always feels very different and more even the next day after applying this.